Know the Kong-text! (Ooft that was a bad joke– Ed) Please note that all "DK" acronyms in this article refer exclusively to the Donkey Kong character, and not his franchise, his island or any other Kong. Failure to observe this may lead to confusion, monkey madness and/or mayhem.
Walking into their local Sears, two young brothers with unsightly mullets and tie-dye shirts attempt to outrun each other to the electronics department. They seek to be the first to lay hands on whatever controller they can find, hoping beyond hope to play as many video game demos as they can before their parents tell them that it's time to leave.
Yes, if you haven't figured it out already, one of those brothers was me. That sort of race broke out quite frequently in my younger years, and that is how and where I remember first running across Donkey Kong Country for SNES. Ever since I first monkeyed my way through Jungle Hijinxs, I've been a huge fan of DK and his funny little nephew sidekick. In fact, Diddy quickly became one of my top favorite video game characters. I was immediately enthralled with his apparent personality and quirks because, quite frankly, he had everything that his gorilla compadre did not.
Donkey Kong, which was creator Shigeru Miyamoto's funny way of putting "dumb gorilla" into English, is about as deep character-wise as his name suggests. Like the stereotypical ape of cartoons, all he wants is another banana. I'm afraid he, much like Mario, became so popular in the simpler days of gaming that Nintendo thought it would be heretical to ever develop his primitive character further in later outings. On the other hand, Diddy, much like Luigi, had to be given more flavor than his leading man in order to even dare compete with his best bud's long-established popularity. Don't get me wrong – I absolutely love DK and Mario; but I would choose their "insignificant others" over them any day when it comes to uniqueness, blaring personality, and even tongue-in-cheek witticism.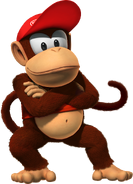 Despite his long, curly tail, Diddy is officially a chimpanzee.
Sure, DK's always wearing that classy red tie and seems to like keeping his hair just so-so, but Diddy's sportin' a tank top and a baseball cap that reeks with vibes, shamelessly plugging Nintendo . Sure, DK has mad bongo skills, but Diddy plays electric guitar and the bongos. Sure, DK's been known to flash his nasty Coconut Shooter, but Diddy's packin' Peanut Popguns and a jet pack! DK can't even try to top that kind of cool factor. (Yes, I know all of the roster had jet packs in Donkey Kong Barrel Blast, but I promised never to bring that up because it makes the Kongs fling poo bananas at me.) Top all that off with DK's shady past and superficial relationship with Candy, and Diddy is clearly the ape who shines brighter as a beacon for genuine romance and heroism.
Be the facts as they may, there yet remain people in this world who look at Diddy through dark eyes. Twisted and evil, they've been known to mock him beyond reason, even likening him to the creative failure of Scrappy-Doo. Personally, I simply cannot fathom how anyone with a heart can despise a small monkey in a baseball cap. Whenever gamers express a festering detestation for Diddy Kong in my presence, I simply let out a sigh and move on.
Anyway, I couldn't rightly finish a reflective article about Diddy without confessing how loud of a squeal I let out the morning my brother and I first discovered he was a playable character on Super Smash Bros. Brawl by means of the Smash Dojo. He was, after all, our most wanted newcomer and a perfect addition to the roster, rightly giving the Donkey Kong franchise its best possible second representative. His inclusion in the four-player, star-studded slam-fest has amply aided in spreading his retro appeal to a new generation, and I couldn't be happier about that.

This chimp ain't no chump! Monkey karaoke!
Captaining a sequel, spinning off into his own kart racer, and showing up in practically every modern Mario sports title since 2004, Diddy Kong has long proven himself the fine video game star he originally set out to be. So just ignore the haters, Diddy, and have a banana. You deserve it.