Welcome to another exciting edition of Week: End Game: On, the place where the Nintendojo gang broadcast their current video game addictions for the entire world to see! Since we can't possibly wait for all of the new titles from the Tokyo Game Show and Nintendo's presser to be released, most of us are still making due with some old favorites (including the new 3DS remake of Star Fox 64). It just goes to show you that you can't go wrong with a classic.
---
Kevin Knezevic
I finally purchased Star Fox 64 3D this week, so most of my free time has been devoted to that. I must admit, the game is a lot better than I remember it, and I can definitely see why so many gamers hold it in such high regard. Each of the stages is well-designed and a lot of fun to play through, though I can't for the life of me figure out how to earn medals or find alternate exits (remember, I haven't had much experience with the series outside of SF Adventures, so keep that in mind before judging me). Still, I'm really enjoying my time with the title, and I can see myself sticking with it for a while yet.
Besides that, I've also played a little more Super Mario Bros. on my 3DS this week. I will always have a special place in my heart for that particular title– it was the one that introduced me to gaming in the first place (at the tender age of three), and I can't help but reminisce of the times my dad and I would compete to see who could reach Bowser's castle first (spoiler: it was always me). Seeing it on a small screen is actually a little disorienting at first, but the game is still so much fun that I don't really mind.
---
James Stank
I'm not really planning on playing too many games this weekend, but there is one in particular that I will be playing for sure, and it's FINAL FANTASY VI (or III, however you like it). I'll probably toss some Madden 12 in there somewhere too.
"Toss some Madden 12 in." Get it…?

---
Smith Stuart
That's okay, James. We're not here to judge.
---
Andrew Hsieh
In anticipation of The Legend of Zelda: Skyward Sword (I know it's a while yet– just let me dream, man) I'm playing The Wind Waker. I never finished my save file with Link in the blue fishing clothes, and I really want to see just what the heck those Hylian gods are saying, so that should be fun. Right now I'm trying to get Forest Water to all those stupid Withered Forest Trees. This is worse than that part of Grand Theft Auto: Vice City where you had to spend a whole hour on getting patients to the hospital. Seriously, the lengths we'll go to to get Heart Pieces, amirite?
I'm also playing Final Fantasy Tactic still, but I'm pretty sure The Wind Waker has my time for now. There's definitely a lot of turnover in terms of video games here in Hsiehland. I am disgraced.
---
Smith Stuart
I'm so thankful that last Monday, right after I had just gotten payed for some weekend dogsitting, I found myself in Target where there was a great special: Buy Star Fox 64 3D, get 50% off a second 3DS game. While this is not that great of a deal if you already have 3DS's few gems in your collection, I didn't; so it naturally got my attention, and at the end of my shopping excursion I found myself with remakes of both Star Fox 64 (just like Kevin) and Ocarina of Time – two of the absolute best games in the history of history. To say I was thrilled would be an understatement.
But since I can't actually play them yet (I had to spend the money I saved for a 3DS at the vet), I've found myself holding the sun in my hands (no, not Boktai) in the form of Golden Sun: Dark Dawn to help me Move on. I certainly have a unique story as to where and how I played the original – at an auction house in Alabama in the seatless back of our torn-up family van with only the poor illumination of a cheap, eye-piercing worm light to barely see Isaac and friends by. That game was one of the only things that kept my brother and I sane during that terrible experience. Anyways, I've enjoyed the third installment quite thoroughly, and I very much find the localization to be even better than the first two's – which is not an element of gaming that should ever be downplayed, as it was so abysmally in the rather wooden Pokémon Black & White script. Ugh. To heck with bad dialogue!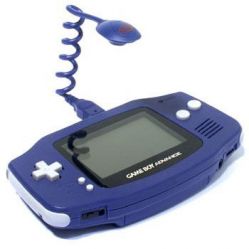 It came from outer space…
---
Katharine Byrne
I'll admit it, I'm still playing Xenoblade Chronicles. Even with 40 hours behind me, the endgame still seems a long way off (although it probably doesn't help that I keep spending most of my time completely engrossed in the sidequests instead of ploughing ahead with the main story). But rather than harp on about Xenoblade for yet another week, I'll also be trying to play a bit more of Hotel Dusk: Room 215 this weekend.
I say "trying" because I'm currently finding it very hard to motivate myself to carry on with it. I'm only a couple of hours in so far, but I probably would have completely abandoned it about 90 minutes through if it weren't for the fact that the game actually belongs to a friend of mine and I sort of feel obliged to finish it. I think my main gripe with the game is that it's soooooooo… sloooooooow. And I'm not just talking about the pace. The speed of the text also trundles along at little more than a snail's pace (and I fear the snail would probably win if put to the test), and I'm a girl who likes her text delivered fast— really fast– and if this game had one fatal flaw, it would be that there's no option to increase the text speed. That said, it is starting to get a little more interesting now that the story has started picking up, but I definitely don't think I'll be racing out to get my own copy once (or should that be "if"?) I finish it!
---
So what have you been playing lately (or planning on playing over the weekend)? Let us know in the comments below!