Monopoly is the classic board game that makes and breaks family game nights. With Monopoly Gamer though, Hasbro is finally bringing the family-friendly Mushroom Kingdom to the table.
Of course, Monopoly Gamer is still the classic Monopoly that we know and love, with players moving around the board, buying and trading property until only one property mogul remains. However, everything else about it includes a healthy dose of Nintendo charm.
The paper money has been replaced by gold coins and the properties are all Mushroom Kingdom locations — for example, Bower and Peach's castles.
Players moves Mario figures around the board and each has a "Super Star" ability, activated when players land on special spaces. One of the dice has also been replaced with a power-up die — effects like Red Shells (choose a player to drop a number of coins) and Green Shells (the next player only drops coins) will also vary depending on the character you are playing, adding a greater level of variety to the game.
Not only do players gain coins for landing on Go, they also have to fight bosses — with the game ending when all bosses are defeated. The below video from Hasbro gives a better idea on how this all works in practice:
Not only that, but there are also additional characters, like Fire Mario, that can be bought in $2.99 Booster packs, each with their own unique ability.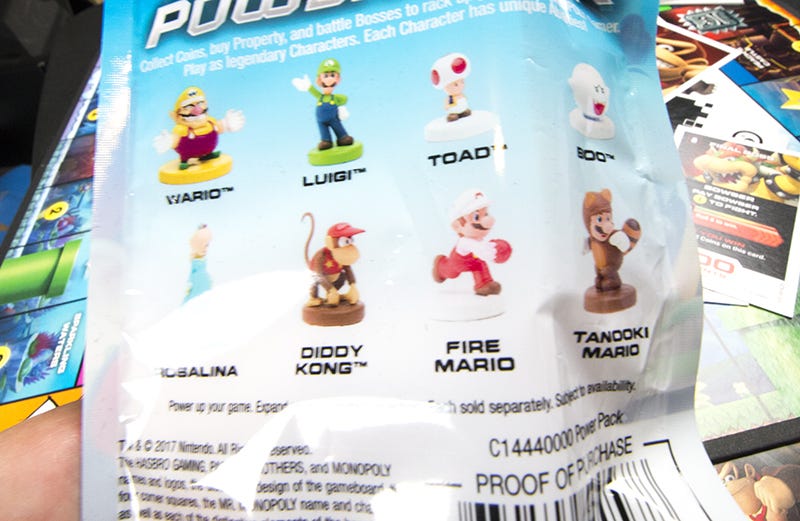 Monopoly Gamer will be available in August for $24.99 and joins the existing Pokémon and Zelda editions of Monopoly that are out now.
Source: Kotaku