In the video game industry, "crunch" refers to the months leading up to a game's release in which employees are forced to work long hours. Devolver Digital and Mega Cat Studios' retro inspired management sim SNES game, Fork Parker's Crunch Out, aims to show those outside of the industry what crunch is really like.
Mega Cat Studios describes the game as being focused on a game executive who is working tirelessly to get their company's game out on time. You can give coffee to people who are falling behind on their work or zap people who need an extra dose of motivation. Profits from the game can be used to invest in office perks to prevent employees from revolting, such as espresso machines. This mirrors real world examples of companies that provide employees with free meals or alcohol in lieu of paying overtime and to try to lessen the blow of having to work weekends and long hours.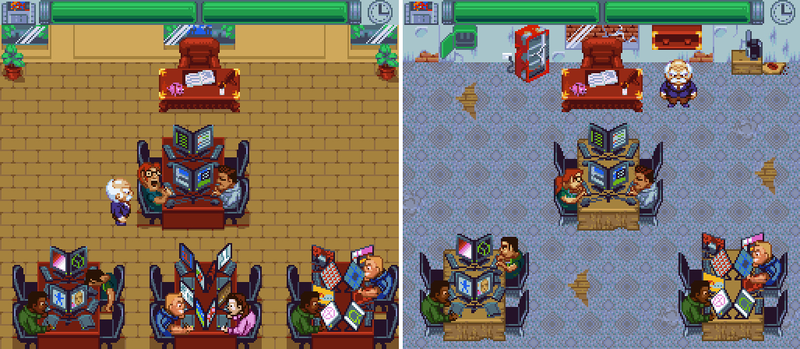 One thousand working SNES cartridges of the game will be produced for a price of USD $50. Meanwhile, a $150 special edition has a screen attached which displays the game's title when the SNES is turned on.
Devolver is donating its profits to the non-profit charity Take This, which spreads awareness of mental health issues in gaming and provides services for mental illness prevention.
Fork Parker's Crunch Out is expected to ship in early Fall 2018.
Source: Kotaku