The underlying message conveyed in Pokémon Black & White is one that goes beyond moral relativity and attempts the impossible– to seamlessly blend personal ideals with absolute truth, even where the two are clearly in direct contradiction to one another. The basic idea presented is that the dual elements of yin and yang exist in varying proportions in all things, and that, because of this, every person must decide his own right and wrong and realize that each individual's decision is as veritable as the other.
This concept stems from the legend of the land, which claims that the great dragon Pokémon Reshiram and Zekrom (who in a sense represent virtue and rebellion) were originally one entity. The two of them only split after their twin owners began to stand in opposition to one another in disagreement. After this separation, Reshiram and Zekrom ended up destroying the world in rage, only to recreate it afterward anew. I'm not exactly sure why they did this, or what relevance it holds to the plotline, but I'm guessing Game Freak decided to use this hackneyed story element to express the dragon duo's gargantuan power levels and perhaps also to display in narrative form the ultimate ramifications of malicious conflict.
But these notions are tainted with much too heavy a dose of foolishness to be adopted wholesale by thinking minds; and quite frankly, overstep several bounds that are just begging to be contradicted.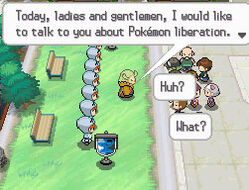 For starters, take the villains of the games, "Team Plasma," into account. Most of the story revolves around thwarting their undying schemes. But unlike the world tyrants of games past, these foes surprisingly have a much deeper depth to their plight: Mankind is cruel. Pokémon must be liberated.
But rather than the repetitious, admittedly shallow plight of global conquest, Team Plasma wish to separate mankind from the world they live in. They believe that Pokémon are man's equals, and should therefore not be used as tools– despite their constant hypocrisy of using them as just that.

Thus begins the war of the worldviews.
During the opening cutscene, Professor Juniper tells the protagonist that he will meet people throughout his journey with different ideas than his, and that this testing of himself, along with his befriending of Pokémon, will allow him to grow as a person and find his place in this world of complementary variables. She believes that the acceptance of diversity is the key to harmony.
However, her politically correct impartation entirely omits that people can be evil. And regardless of all the feel-good nods to love and acceptance coming from the mouths of the protagonists, they, along with the region's gym leaders, consistently stand in direct opposition of Team Plasma at every turn.
Notice the paradox? If you're going to preach moral relativism, then it would be wise to leave the idea of including enemies within the immediate spectrum on the outskirts of the chopping board.
A few moments after getting to know Juniper, the hero meets up with Bianca and Cheren, his two childhood friends and makeshift rivals. They haven't determined what they will be in life yet, with Cheren in particular frequently struggling with the gravity of post-achievement syndrome. What will he do if he does become the Pokémon Champion? Is there a point besides besting the up-hill battle that has been perhaps superficially placed before him? What lies for him beyond the Elite Four?
All that coming from a young teenager. I like how the writers went with realism.
But as another person living in a humanistic world, I can understand his dilemma.
Being a Christian, I am always a wee bit nervous when secular entertainment and media I enjoy present worldviews differing from my own. I have vacillated on how I should respond to this almost daily. My highest conclusion thus far is to hearken to the proverbial "eat the meat and spit out the bones"– which simply means to take the good out and disregard the yuck. Man cannot be defiled from the outside, after all. Defilement can only come from within.
It has been said that you cannot rightly tell a good story without conflict. While this is certainly true, it does not render the coexistence of good and evil equally righteous. One truth can be interpreted differently, but there is nonetheless only one truth. To claim that this is not so is to create a Catch-22 wherein even the most well-intentioned attempts at personal betterment and discovery are rendered nil by the eternal game of beating around the bush that the notion of equivalent opposites so vigorously cleaves to in the all-powerful name of E pluribus unum.
Many consider the search for singular truth and religious beliefs so extreme that they are to be laughed at. But in most societies throughout history, people sought out signs, idols, superstitions, science– yes, even science– to try to get some moral leg up on exactly what was right and what was wrong, especially when it pertained to the treatment of our fellow man.
But Pokémon Black & White, despite Nintendo's best wishes, only manage to gray the two colors in a fog of inconsistency.
For example, when the hero first meets with Alder, Unova's Champion, the man immediately gets into a monologue about how there are "different strokes for different folks" and that trainers should always let people use Pokémon in whatever way they see fit. This, to me, is without question one of the stupidest statements I've ever seen in a video game.
And after his own discussion with Alder, friend Cheren concludes that "there are as many truths and ideals as there are Pokémon."
If you apply these two outlandish thoughts with the backdrop of universal acceptance laid throughout the games' dialogue, then you will quickly realize that, if this is truly the case, then there is absolutely no point in fighting Team Plasma or ending Ghetsis' totalitarianism.
After all, we should just accept them for who they are, right?
No. As important as compassion is, we need to abandon this postmodern idea that love is the merry, ignorant acceptance of all when saying so decimates the fine line between good and evil. Realizing that liberty and justice are two sides of the same coin is a monumental step in mental achievement.
But let's not get too worked up over it. At the end of the day, Team Plasma is proven wrong. Trainers are not enslaving their Pokémon pets. And no matter what its inhabitants say, the world of Pokémon is still a place in which there is solitary righteousness, law and order.
Because even within the realms of fiction, there are utter absolutes.

Where's Officer Jenny when you need her?